The ST Telemedia Sustainability Framework
The Framework supports our business objective of building leading platforms that facilitate business growth and help societies advance. It builds on the Group's consistent commitment to environmental stewardship, social responsibility, and sound governance.
Balancing our business priorities with ecological and societal responsibilities, the ST Telemedia Sustainability Framework is our North Star, guiding our thinking and actions on material environmental, social and governance related issues that matter most to us and our three business focus areas — Communications & Media, Data Centres, and Infrastructure Technology. The diagram below is a graphical description of our Framework.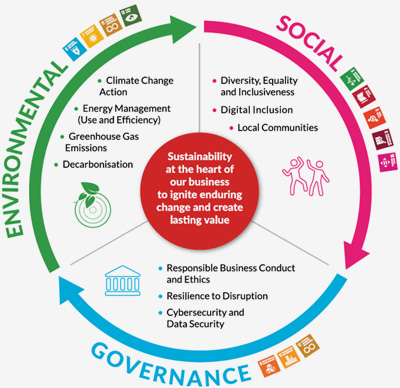 ST Telemedia Sustainability Framework
As a responsible investor, employer and corporate citizen, we aim to invest in, build and grow companies that deliver enduring value to stakeholders and do our part to advance the global sustainable development agenda, especially towards 11 of the UN's Sustainable Development Goals.