October 2017 | Issue 49
STT GDC Acquires Control of VIRTUS, Continues Rapid Expansion in Key Markets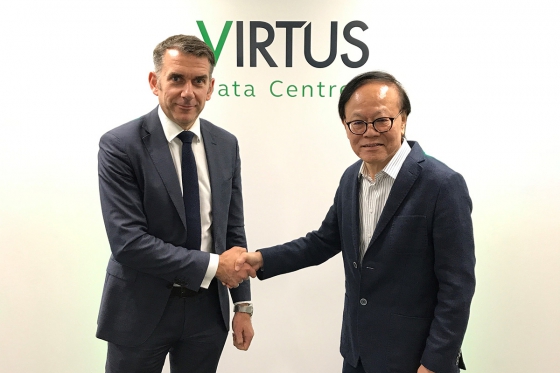 Following ST Telemedia Global Data Centres' (STT GDC) acquisition of Brockton Capital's entire stake in VIRTUS, the fastest growing data centre provider in the UK is now a subsidiary of STT GDC. STT GDC's deepened support will ensure that VIRTUS is well placed to execute its growth plans within the UK and in new European markets. STT GDC is also expanding its global network of over 50 data centres with six additional data centres - three in China (GZ2 and a new data centre campus), two in the UK (LONDON5 and LONDON6), and one in Singapore (STT Defu 2). The new UK facilities will see VIRTUS having the largest data centre campus in London, while the addition of STT Defu 2 to the existing data centre will form STT GDC's flagship data centre campus in Singapore.
---

STT Connect Achieves Highest MTCS Certification

STT Connect has been certified the highest level (level 3) in the Multi-Tier Cloud Security Singapore Standard (MTCS SS 584). This is the Standard's most stringent cloud security requirements that are demanded by enterprises with highly confidential business data. STT Connect has also attained the ISO 27001 certification, the international standard for information security management systems.

---

VIRTUS Climbs to 15th in The Sunday Times Hiscox Tech Track 100

The Sunday Times Hiscox Tech Track 100 has recognised VIRTUS once again for its strong success in the UK and Europe. The fast-growing company has grown 163 per cent per year on average in each of the last three years, and climbed a notch to now rank 15th in the list. It was ranked 16th in 2016. This year, VIRTUS has also made it to the London Stock Exchange Group's 1000 Companies to Inspire Europe report. The report celebrates the top 1,000 high-growth and most dynamic of the 23 million small and medium-sized businesses across the European Union.

---

Armor Clinches Steady Stream of Accolades at Various Industry Awards

Living up to its goal of providing innovative, state-of-the-art security solutions for its customers, Armor has clinched a steady stream of accolades at various industry awards. The leader in cybersecurity was awarded Cloud Based Network Security Solution of the Year by the CyberSecurity Breakthrough Awards, and Gold in the Innovations in Technology category of the Golden Bridge Award. Armor was also honoured as a finalist for Cloud Vendor and Cloud Security Product of the Year in Computing's Cloud Excellence Awards.

---

GDS' CloudMiX™ Named Best Global Cloud Solution

GDS' hybrid cloud exchange platform - CloudMiX™ has been recognised as the 2016-2017 Best Global Cloud Solutions at the Top Cloud Connect Awards. Organised by business events organiser UBM China, the accolade is recognised as an authoritative voice on innovative contributions to China's cloud computing industry. Past winners include IBM and Tencent Cloud. GDS was also recently licensed to provide connectivity services to customers colocated in all of its data centres through its own network. With this, customers will be able to gain significant operational benefits resulting from the enhanced connectivity between cloud service providers and enterprises.
---

StarHub in First Bank-Telco Strategic Partnership to Drive Singapore's 'We Economy'

StarHub and OCBC Bank have collaborated in Singapore's first bank-telco strategic partnership to drive the country's shift towards a collaborative 'We Economy'. Apart from investing $6 million in research and technology over the next one year, both companies have also launched the first store-in-store combining OCBC's financial services and StarHub's infocommunications and entertainment services. With this, customers can seamlessly manage their banking and digital lifestyle needs in one store and enjoy perks if they are affiliated with both companies.
---

STT and Armor Aid in Hurricane Harvey Relief Efforts

Armor and ST Telemedia (STT) joined in the disaster relief efforts after Hurricane Harvey hit Houston, Texas, in August. Armor contributed US$1,507 in food and water supplies, and participated in water rescues. On the home front, STT donated US$7,500 to the United Way Harvey Relief Fund where 100 per cent of the proceeds will go towards helping local communities in the affected regions meet storm-related needs and support long-term recovery.

MORE

---

TeleChoice and STT Engage the Elderly in Fun Mooncake-making Session

STT joined TeleChoice in the latter's corporate social initiative with Dignity Kitchen, Singapore's first social enterprise hawker-training centre. The staff engaged 20 senior citizens in a mooncake-making session, in celebration of the Mid-Autumn Festival. The activity was a first for many senior citizens, and they were thrilled to be able to take home mooncakes that they could proudly declare were handmade by themselves.

---

First Intake of Interns Graduate from STT

In September, the first intake of interns – two final year students from Temasek Polytechnic – successfully graduated from STT's internship programme. The programme is part of the ST Telemedia Catalyst Award. Hailing from "Communications & Media Management" and "Infocomm & Network Engineering", the interns were assigned to STT and STT GDC, respectively. Through on-the-job training and exposure to the companies' operations, both students gained valuable insights into the industry and experienced the corporate work-life. They were also entrusted ownership of projects which have helped them to further hone skillsets such as critical and analytical thinking, in preparation for the workforce in the future. The second intake of interns will be joining in the later part of the year, and will come from other disciplines including Business, Finance, Marketing and Cybersecurity.