April 2018 | Issue 51
STT Extends Cloud Portfolio with Bespin Global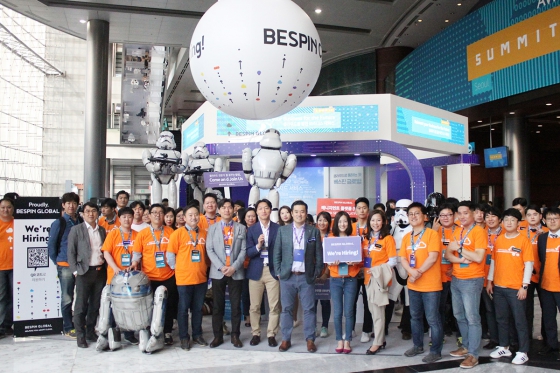 Continuing on its momentum of building a strong portfolio of complementary cloud-focused companies, ST Telemedia (STT) completed its participation as lead investor in the financing round for Bespin Global in January. Headquartered in Korea and China, Bespin Global is a fast-growing cloud ops company whose aim is to help enterprises adopt and migrate from their legacy IT to cloud IT. The new investment will be used to accelerate the company's cloud management platform development and customer growth.
---
Moogsoft Adds Goldman Sachs Growth Equity to its Investor List
In March, Moogsoft successfully raised US$40 million in Series D funding led by Goldman Sachs Growth Equity. The funds will be used to fuel product innovation and global expansion. 2017 was another milestone year for the company as it more than doubled revenue, saw the on-boarding of key customers from across the Global Fortune 500 and introduced market innovative new features.
---

STT GDC Boosts Interconnection Capability Across its Singapore Platform

In the third quarter of 2018, ST Telemedia Global Data Centres (STT GDC) will offer customers even more connectivity options as it adds the Australia Singapore Cable (ASC) in STT Tai Seng 1.

---

StarHub is Singapore's First Telco to Offer Solar Energy to Households

StarHub has become the first telecommunications company in Singapore to enter the electricity market, offering households in western Singapore the choice to purchase clean energy.

---

Sichuan Telecom Gleans Retail Management Best Practices by StarHub and TeleChoice

In January, STT hosted a delegation of 26 representatives from Sichuan Telecom and its partner companies. As the group was keen to glean best practices relating to retail and distribution management, STT invited StarHub and TeleChoice to share their expertise on the matter. In addition, STT GDC was also invited to give the delegation an overview of its business. The programme culminated in visits to the retail stores of StarHub and a TeleChoice partner, where the delegation was able to observe the flow of operations and have a deeper understanding of how the store design impacted the customer experience.
---

TeleChoice Spreads Joy of Lunar New Year to the Elderly and Families

Staff of TeleChoice volunteered their time at Community Chest's Fú Dài (fortune bags) 2018, an annual Lunar New Year event which seeks to spread festive joy to the elderly and families in need through the delivery of fortune bags. The volunteers packed and delivered over 200 fortune bags which contained essential food items and a commemorative EZ-Link card to beneficiaries staying in the Clementi estate.

---

STT Brings Children of Canossaville Student Care to the Fire Station for a Fun Day-out

Staff-volunteers of STT brought cheer to the children of Canossaville Student Care by taking them out for a much-anticipated learning trip to the Central Fire Station. It was an enriching experience for both volunteers and children, as they learned about the history of the fire station - Singapore's oldest - and picked up emergency preparedness skills. STT and staff also raised $15,000 to help the centre in their mission to better the lives of the children.