October 2018 | Issue 53
StarHub Establishes One of Asia's Largest Cybersecurity Firms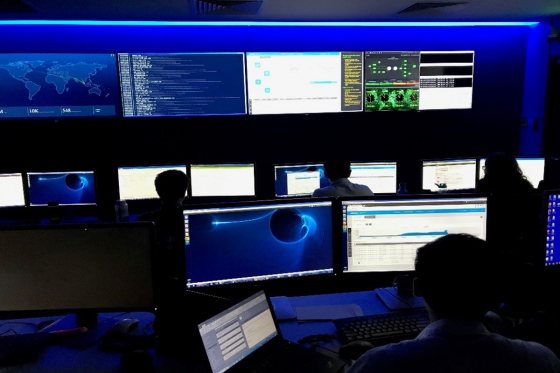 Recognising the growing demand for strong cybersecurity, StarHub has partnered Leone Investments, an indirect subsidiary of Temasek, to form one of Asia's largest pure-play cybersecurity firms called Ensign InfoSecurity (EIS). Headquartered in Singapore, EIS' 500-strong cybersecurity specialists will develop and provide customers with proprietary end-to-end cybersecurity capabilities and expertise to protect their digital systems.
---

TeleChoice Clinches 'Best Investor Relations Award'

TeleChoice was conferred the prestigious 'Best Investor Relations Award (Bronze)' at the Singapore Corporate Awards 2018. The award underscores TeleChoice's commitment to uphold best practices in corporate governance, content disclosure and delivery.

---

Frost & Sullivan Reaffirms STT GDC for Competitive Strategy, Innovation and Leadership

For the second year running, STT GDC clinched Frost & Sullivan's 'Asia-Pacific Data Center Services Competitive Strategy, Innovation, and Leadership' award. The award is testament to the data centre's dedication to continuously differentiate itself through its growth strategy as well as products and services to achieve significant business growth for its clients and partners.

---

STT GDC Bags Award for Energy Efficiency

STT GDC took home the 'Energy Efficiency Improvers' award at the Datacenter Dynamics (DCD) Asia Pacific Awards 2018. They were picked for successfully improving the energy efficiency of their facilities through measurement, analysis and bench-marking.

---

STT Connect Named 'Best Strategic Cloud Service'

Recognised as the 'Best Strategic Cloud Service' by Hitachi Vantara, a data management solutions provider, the award serves as affirmation of STT Connect's continual efforts in delivering forward-thinking solutions to meet businesses' unique needs on a best-in-class private cloud infrastructure.
---

STT GDC Partners Megaport and SGIX to Provide Greater Connectivity and Network Options

With Megaport, STT GDC customers will gain direct connectivity to leading cloud service platforms such as Amazon Web Services and Microsoft Azure, and access to over 250 Managed Service Providers and networks globally. This will allow them to connect and scale with the cloud services that they need. On the other hand, through the partnership with Singapore Internet Exchange (SGIX), customers will be able to connect to the latter's near 100 members to enjoy cost-efficient, quality network options.

---

SKY Introduces First-of-a-Kind Cable TV Box that Allows Netflix and Youtube Streaming

SKY has upped the ante on local cable TV viewing with its SKY On Demand box that enables not just access to HD cable TV, but also streaming from Netflix, YouTube, and its own SKY On Demand app. In a market where online viewing on a big screen is widely gaining ground due to internet penetration, SKY's latest product will be a great fit for customer preferences and a huge boost to the user experience.
---

STT Engages Elderly in Fun Clay-art Workshop to Promote Dexterity

Earlier this month, STT treated 30 elderly from NTUC 's Community Befriender Programme to a clay-art workshop and lunch at Dignity Kitchen. The fun continued with a hearty karaoke session for the elderly, led by STT President & CEO Stephen Miller and staff. This activity marks the second time that STT has collaborated with the social enterprise.

---

Exciting Learning Journeys for STT Interns

It has been an adventure for the second batch of ST Telemedia Catalyst Award recipients interning with STT and STT GDC. Through mentoring and involvement in major projects, the five interns honed skillsets relevant to their disciplines in communications, finance and IT. Some even had a rare chance to visit Bloomberg's newsroom, while others had fun at STT's employee engagement activities!

---

TeleChoice Supports Community Chest's Heartstrings Walk

In August, TeleChoice supported the Heartstrings Walk 2018 by joining a Fun Walk with members from the Singapore Cancer Society as well as a vertical marathon. They also raised $5,000 for Community Chest's member charities.