Redefining "Business as Usual" During Covid-19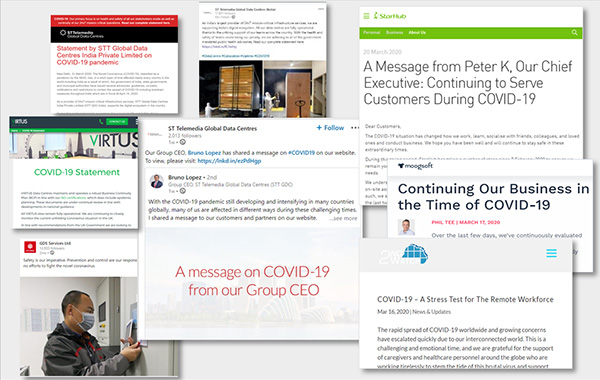 The unprecedented Covid-19 pandemic has driven most of the world further into the digital realm and ushered in a new business normal. Communications and digital infrastructure, as well as solutions and capabilities that safeguard and optimise the infrastructure, have never played as mission critical a role as they have now. Within the STT group, our portfolio companies have ensured robust business continuity with minimal impact, so that they can continue supporting their customers during this unplanned disruption. Learn more about the on-ground measures implemented by some of our portfolio companies, STT GDC, STT GDC India, VIRTUS Data Centres, GDS, StarHub, Moogsoft, 2nd Watch.
STT Boosts Cloud IT Capability with Majority Stake in CloudCover

Following its investments in 2nd Watch and Cloud Comrade, STT continues to strengthen its cloud IT capability with a majority stake acquisition in CloudCover, a cloud-native service provider with presence in India and Southeast Asia (SEA). With STT as a strategic investor, CloudCover will accelerate its market expansion and talent acquisition as well as strengthen its software development and product offerings.
StarHub Sweeps Up Four Customer Service Awards

StarHub bagged two Golds and two Silvers at the "Customer Contact Week Asia Excellence Award 2020", and the 14th annual "Stevie® Awards for Sales & Customer Service". The accolades serve as recognition for StarHub's efforts in refining its customer service strategy as part of its #HelloChange commitment.
VIRTUS to Open Two New Data Centres

The new builds – LONDON6 in Stockley Park campus and LONDON10 in Slough – will open largely pre-let and ramp up VIRTUS Data Centres' total live technical space to 97MW of 165MW available. This development reflects a growing customer demand to bring their storage and compute infrastructure closer to end users to lower network costs and improve the performance of their applications. VIRTUS is part of STT GDC.
StarHub Eyes Enterprise Growth with Majority Stake Acquisition of Strateq

StarHub announced the acquisition of Strateq, a Malaysian-based digital services provider, to boost its enterprise capabilities. The latest strategic move serves to strengthen and diversify StarHub's existing information and communications technology managed services, and cybersecurity capabilities in Singapore and Asia Pacific.
STT Group Steps Up Covid-19 Community Response

In April, STT and STT GDC collectively participated in Temasek Foundation's Project #BYOBclean. The joint activity saw 14 staff from both companies, including STT President & Group CEO Stephen Miller, distributing free hand sanitiser to members of the public. STT also donated to Canossaville Children and Community Services and Dignity Kitchen to lift up their beneficiaries during this challenging period. STT will continue to identify areas of need to help our community get through this critical time.
GDS' Data Centres Warriors Work Round the Clock for China's Community

In the Covid-19 pandemic, we see extraordinary sacrifices by many, such as GDS, which is part of STT GDC. Upon receiving a call for support on Lunar New Year's eve from a hospital designated to battling the virus, GDS swiftly activated all teams to the Chengdu data centre to ensure that the critical infrastructure needed by the hospital was functioning at maximum capacity. With GDS staff forsaking family reunions and working all night, the hospital was able to successfully accomplish its emergency response task and move a step closer in combating the virus.
SKY Provides Customers with Complimentary Channels During Homebound Period
Deciding to bring cheer to Filipino families who are homebound, SKY released additional complimentary channels to their basic line up for the duration of the Philippines' lockdown period. With access to more children programmes, educational and cooking shows, movies, sports and news, SKY hopes to provide greater entertainment and bonding time for families.
Please feel free to forward this newsletter.